New Patients are Always Welcome!
Newmarket Dentist Dr. Brian Croppo and his dental team have been caring for the oral health and wellness of Newmarket and York Region for over 25 years. Our experienced team recognize the importance of a healthy, beautiful smile. Our attention to detail and patient focused approach have established our office in the community and allowed us to care for entire families, spanning generations.
Through continuing education and ensuring that we keep abreast of new technology and techniques we are able to offer our patients exemplary dental care. The experience of our Newmarket dentists and their teams allow us to accommodate all of your family's dental needs in one location.
Modern dentistry offers services that can maintain your oral health, enhance your already beautiful smile and ensure that you can smile in comfort and with confidence. Please take a moment to browse through the list of services available to you at our office. For more information regarding any dental service or oral health concern please contact our office.
We look forward to making you smile!
---
Teeth Whitening in Newmarket
Aging, diet, injuries along with many other factors cause teeth to dull and yellow. Teeth Whitening is a popular cosmetic dental service we offer. Teeth Whitening restores stained or discoloured teeth to a healthy, natural colour, and is very safe under the supervision of a dental professional.
The results from in-office Teeth Whitening are immediate and long lasting, making this service ideal for special occasions such as weddings, graduations or any celebration for that matter.
We provide our Teeth Whitening clients with custom fitted trays and 'touch-up' gel to take home so that their results can last even longer. "Touch-ups" are especially useful for people that drink coffee, tea, red wine and beverages that are prone to stain teeth.
Reason for Tooth Discolouration include:
Drinking coffee, tea, wine or soft drinks that stains teeth
Natural aging - The dentin underneath the enamel of a tooth darkens
Smoking - any tobacco use stains teeth
Accidents - a dead nerve will darken a tooth
Root Canal Therapy
If you are interested in bringing out the white in your teeth, Newmarket dentist Dr. Croppo will evaluate your teeth, smile and expectations to determine whether whitening is the correct procedure for you. Feel free to ask Dr. Croppo about professional tooth whitening as well as over the counter agents. Together you can compare treatments and determine which solution will be most effective for you.
Back to top
---
Orthodontics
Some children naturally have straight teeth, others are not so lucky. The size of your child's teeth and how they fit together are inherited traits, as are malocclusions. Malocclusion is the dental term that literally means "bad bite" and there are a number of different malocclusions.
Orthodontics work to correct malocclusions by bringing a bite into proper alignment.
Our Newmarket Dental team will keep a close eye on your child's oral development. We will ensure that there is room for their bright smile to grow. If your child requires orthodontic treatment, we will recommend the appropriate starting age.
Early treatment can prevent more extensive and costly treatment later in life. Correcting your child's bite can improve their oral health as well as boost their self-confidence.
Newmarket dentist Dr. Brian Croppo would be pleased to talk to you about the benefits of orthodontics next time you are in to see us.
Back to top
---
Invisalign
If you are self-conscious about your smile, traditional braces may attract attention to your teeth. This may have held you back from improving your smile, That is until now!
Our Newmarket dental office offers Invisalign as an alternative to traditional braces.
Invisalign uses a series of custom fitted, removable trays, progressively straightening, aligning and improving your smile. The Invisalign Aligners are clear and virtually unnoticeable to those around you.
Depending on your individual situation, the duration of the Invisalign procedure is comparable to traditional braces.
Beyond the aesthetic nature of Invisalign, there are other advantages to the procedure.
The removable trays allow for easier cleaning and oral hygiene practices.
Normal brushing and flossing regimens can be maintained.
Trays can be removed when eating.
Irritation from metal braces is avoided.
Properly aligned teeth aid in speech, chewing, gum and bone health.
If you have been avoiding straightening your teeth due to the nature of traditional braces, ask our Newmarket dentists about Invisalign today.
Back to top
---
Dental Implants
A missing tooth is more than just an aesthetic concern
A missing tooth, anywhere in your mouth is a space where a tooth used to be. Beyond aesthetics each tooth acts as a chewing surface, a place holder for adjacent teeth and jaw bone structure along with many structural and preventative roles. Without a tooth in place surrounding teeth can shift making decay more likely, increasing the risk of bone loss, the area can become more apt to periodontal disease and the list goes on.
To avoid the maladies associated with a missing tooth an implant may be the solution for you. An implant will take the place or more appropriately fill the space that your missing tooth once held.
A dental implant is a small prosthetic post that is placed into the bone of the upper or lower jaw. The post functions as the root portion of the lost tooth and serves as an anchor for replacement tooth. Once the post has settled an artificial tooth is attached to fill the space that was once your missing tooth.
A dental implant can offer you the ability to eat comfortably, return your mouth to health as well as your confidence in your smile.
Dental implants look and feel exactly like natural teeth, no one other than you and your dentist will be able to tell the difference. Our Newmarket dentists would be pleased to discuss the benefits of implant prosthetics with you.
Back to top
---
Dental Crowns (Caps)
A crown is a covering that sits over the top of the tooth creating a tooth surface to protect, cover, seal and strengthen your tooth. Crowns are used in many different scenarios as they are effective and often allow us to save a tooth rather than turning to implants.
Situations where a crown may be the solution include:
Larger fillings that have broken down or have formed decay around them may need a crown to save the tooth
A cracked tooth may need a crown to hold it together. Be careful not to wait too long as an untreated cracked tooth can become sensitive or eventually break
Teeth that are very sensitive, either from a lot of 'wear', or from receded gums, sometimes require crowns to seal and protect the teeth from hot and cold sensitivity
A tooth that has broken may be too weak to hold a filling. A crown will hold the tooth together and prevent it from breaking again. If the fracture is too deep, Root Canal Therapy may be required before the tooth is crowned
A tooth that has undergone Root Canal Therapy will often need a crown to properly seal and protect the tooth
A crown may be the solution to saving that tooth; Dr. Croppo and his Newmarket dental team will evaluate your needs depending on your oral health and the condition of your teeth.
Back to top
---
Dental Bridges - Replace Missing Teeth
Aside from the discomfort that can come with a missing tooth, there are other problems that result. To start with, the tooth that was there acted as a place holder keeping other teeth from shifting. Without that tooth the surrounding teeth may move affecting your visible smile. A missing tooth can also cause the gums and neighboring teeth to become far more susceptible to decay and gum disease.
One of the solutions we can offer for patients missing teeth is called a dental bridge.
A dental bridge is a false tooth that can be used to replace one or more missing teeth.
Bridges can help to:
Reducing your risk of gum disease
Help to correct minor bite issues and can even
Improve your speech
The false tooth acts as place holder to avoid the shifting of other teeth, improve/maintain your oral health as well as protect the appearance of your smile. If you're missing a tooth and have figured it was harmless until now, ask our Newmarket dental team if a dental bridge is right for you. Your smile will thank you.
Back to top
---
Porcelain Veneers
If you could cover your stained slightly crooked or gapped teeth and make them appear flawless would you?
This question isn't merely hypothetical, because with modern dentistry techniques ...you can!
A popular and highly effective cosmetic dental service is Porcelain Veneers. Dental veneers are custom, porcelain facings that are bonded to the front surfaces of your teeth. They are made to match the shape and size of your mouth and created at the whiteness level that you desire.
To procedure involves 'smoothing' or a reduction equal to the thickness of the veneer from your natural tooth surface and bonding the veneer to the tooth.
The results feel and look natural.
Porcelain veneers can be used to:
Straighten Crooked Teeth
Close gaps in teeth
Whiten dark, yellow, permanently stained or discoloured teeth
Repair broken or chipped teeth
Enhance your overall smile making you feel younger and more confident
Our experienced Newmarket dental team would be pleased to discuss Porcelain Veneers with you. After a consultation with Newmarket dentist Dr. Brian Croppo, you can decide if Veneers are right for you. Together we will help you create the smile you've always dreamed of.
Back to top
---
Tooth Coloured Fillings
Do you have silver fillings in your smile?
Do they cause you to hide your teeth when you speak?
Are you allergic to metallic filling?
Amalgam or silver metallic filling were the standard practice until not so long ago in dentistry. The amalgam was needed for its strength, especially on chewing surfaces and for large cavities. The material from which these fillings are composed can corrode and leak, blackening the filling, and often the tooth.
If you're unhappy with the silver in your smile, talk to our Newmarket dental team about composite tooth coloured fillings.
White fillings or composite fillings are made of a material that actually bonds to the tooth for a tight seal. The material is strong enough for chewing surfaces and lacks the sensitivity associated with amalgam fillings.
Cosmetically, white fillings are stain-resistant and colour-matched to your natural tooth making them almost invisible. If you have metal in your smile, speak to Newmarket dentist Dr. Brian Croppo about tooth coloured fillings.
Back to top
---
Nitrous Oxide - Dental Anxiety in Newmarket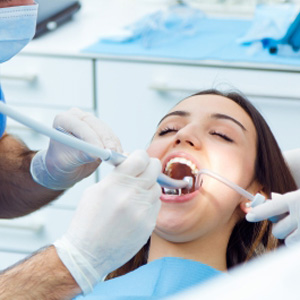 If you are anxious about a dental procedure or the sounds, smells and environment associated with the dental visit, a tool that we have to help you relax is nitrous oxide.
Nitrous or "laughing gas" often allows patients forget about the surrounding while the freezing we use will take care of any potential discomfort.
The nitrous oxide is inhaled through a nose piece during you procedure and monitored by our trained team.
Nitrous Oxide is quickly released from your system after the source is turned off and you will be fully aware and able to respond to us during your visit.
Dental problems will not go away on their own and left untreated can lead to costly and potentially worse health issues. If dental anxiety (or fear of the dentist) has been holding you back from receiving the care you need speak to us. There are option available to ease your anxiety.
Back to top
---
Digital X-Rays
For your added safety and comfort Dr. Croppo uses Digital X-rays.
Why Do I Need Dental X-rays?
Similar to an iceberg, only a portion of your tooth is visible upon a first inspection. When we look at your teeth with our naked eye we are only scratching the surface.
Your tooth is composed of several layers, with a large portion hidden below your gum line and in your jaw bone. The surface 'enamel' that we can visibly examine is meant to protect the inner parts of a tooth. Below your enamel is the Dentin, then the Pulp where the nerve and blood vessels nourish your tooth. Also hidden are your Jaw bone, joints and ligaments that help support your teeth. Damage, infection or abnormalities below the surface are often invisible but cannot be ignored.
X-rays allow us to:
Find decay and abnormalities between teeth and below the gum line
Monitor the effects of periodontal conditions
Monitor your jaw bone and the position of your teeth
Monitor areas of concern before they become a problem
Detect any growths or abnormality in your jawbone that may be a sign something more serious
Get a complete picture of your teeth in relation to each other and your mouth (both inside and out)
How are Digital X-rays taken?
Digital dental X-rays are faster and more comfortable than traditional dental X-rays. To perform a digital dental X-ray we place a small sensor in your mouth which is connected to a computer by a tiny wire. An X-ray beam is then sent through your teeth, recording an image of your teeth, jaw bone and support structures which are then sent to a computer. The sensor can then be repositioned to capture other sections of your mouth. These images are processed by the computer, rather than needing to be developed on traditional film. This eliminates the need for toxic developing chemicals as well as increasing the speed and accuracy of the image.
Why do we use Digital Dental X-rays?
We are all exposed to a very low dosage of natural radiation from the environment. Studies have shown that the radiation exposure from traditional dental x-rays is about 1/100th of the amount of radiation received from natural sources. Digital dental X-rays produce 80 - 90% less radiation when compared to traditional dental X-rays.
Digital dental X-rays are much faster and more comfortable to use. As the images are captured electronically, there is no need to develop the X-rays, thus eliminating the disposal of toxic waste into the environment. The digital image also allows us to enlarge, isolate and zoom into specific areas of the image, allowing us to find potential problems far earlier.
Even though digital X- rays produce lower levels of radiation than traditional dental X-rays, Dr. Croppo still takes all necessary precautions to limit the patient's exposure by using lead apron shields to protect the body and only taking x-rays when they are necessary.
Back to top
---
Office Benefits
Emergency & New Patients Welcome
Evening Hours
Child Friendly
Most Insurance Accepted
Digital X-Rays
IV Sedation for Wisdom Teeth
Financing Available
---
Dr. Brian Croppo & Associates
371 Davis Drive
Newmarket, Ontario
L3Y 2N8
---
OFFICE DIRECTIONS